Regular price
WAS $0.00
Sale price
$5.49
Unit price
per

Hot Sale

Sold out
Description
In a world where energy is everything; Ginger Roars have burst onto the scene as more than just your run-of-the-mill vegan-friendly snack.
Taste was their #1 priority in creating Ginger Roars; which is why they took them 5 years to develop. The slight fire of ginger combines with the sweetness of cane sugar and subtlety of virgin coconut oil to create the most delicious energy plant-based chews that will leave you purring and roaring for more.
Wherever life takes you; Ginger Roars will be your trusty companion. Individually wrapped for convenience; these chews can accompany you on any adventure; providing a roar of energy whenever and wherever you need it.
Pre-Workout Power:
Ginger Roars are an ideal alternative to your traditional pre workout supplements. Picture the kick of caffeine that you can perfectly align with your workout intensity. Whether you're hitting a quick gym session or diving into intense training; these chews offer tailored energy.. At 33mg caffeine per chew; you can take one for a little lift or 2-3+ for a mighty roar giving you more control over your caffeine intake.
Providing Health Benefits:
The raw ginger in Ginger Roars is a great source of gingerols – a compound found in ginger that is responsible for multiple health benefits such as improved cardiovascular health.
Supporting Endurance Athletes:
Sustained Energy for Endurance Challenges: Ginger Roars provide a consistent and dependable energy source that also help prevent GI issues during training and racing. These chews make sure you stay strong and steady throughout the most gruelling races and training sessions. Whether it's a marathon or a triathlon; Ginger Roars provide the sustained energy needed to finish your race strong.
Perfect energy boost for ultra events:
inger Roars contain raw ginger; because of ginger's nausea relief and digestion-boosting properties they alleviate gastrointestinal issues; making them an essential addition to your endurance training nutrition strategy or for gut issues. That's not the only superpower our ginger caffeine chews have; numerous scientific studies have shown that ginger combats inflammation; reducing fatigue; muscle soreness and joint pain.
During Active Adventures:
Whether it's hiking; biking; or dominating sports; our caffeinated ginger chews deliver an unbeatable endurance boost. From conquering mountain trails to crossing finish lines; Ginger Roars keep your energy steady and your spirit roaring.
Features
33 mg of Caffeine Per Chew
Less than 17 Calories
6 Wrapped Gummies per Pack
Perfect for On the Go
Vegan Friendly
Delicious Taste
No Artificial Sweeteners
Less Risk of Sleep Disruption
Share
View full details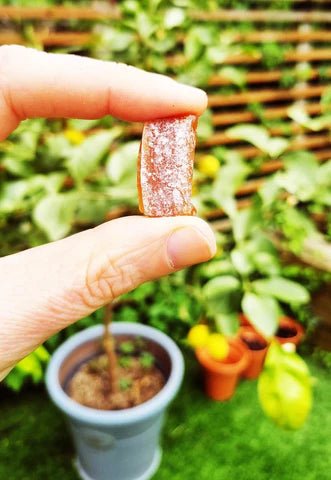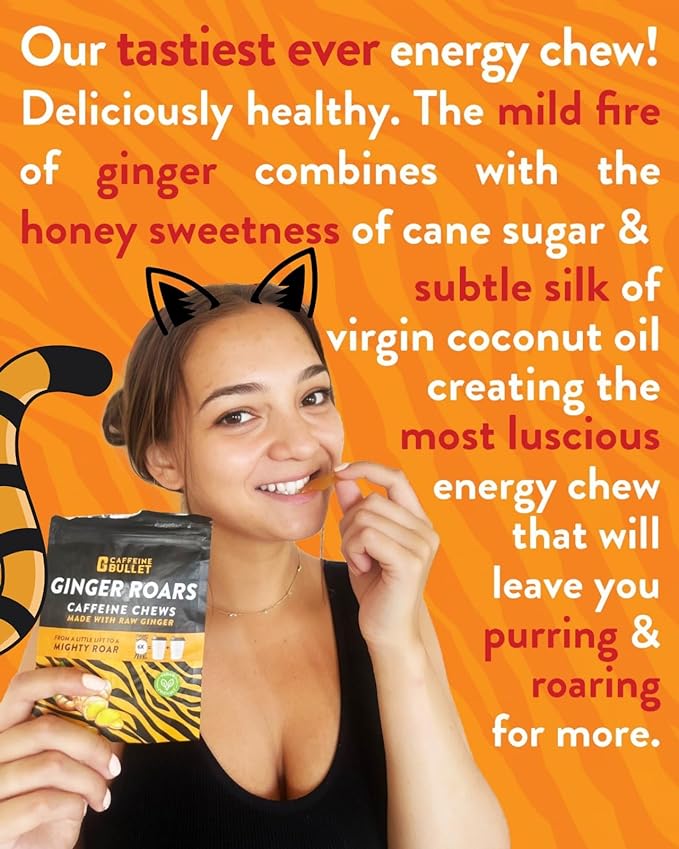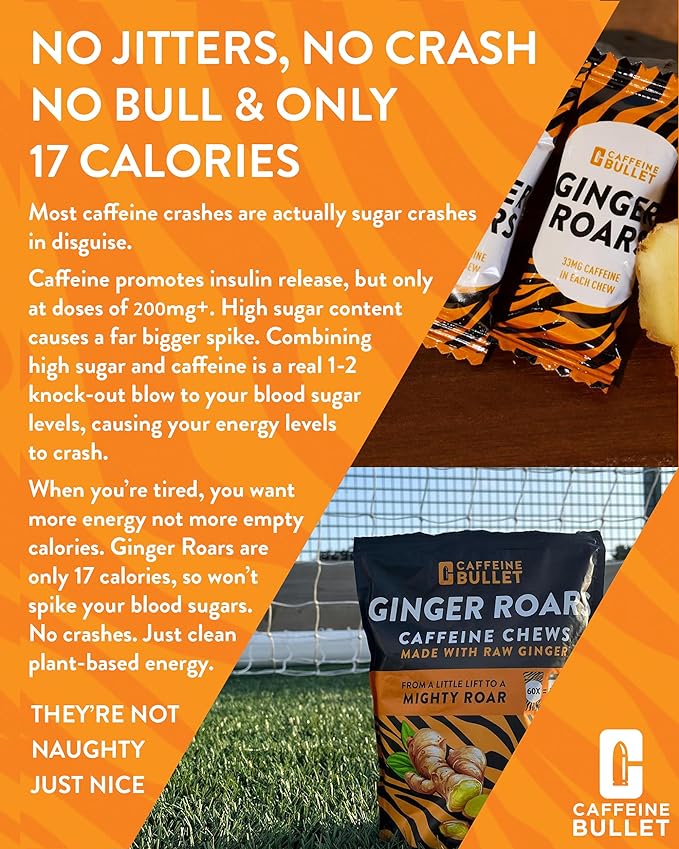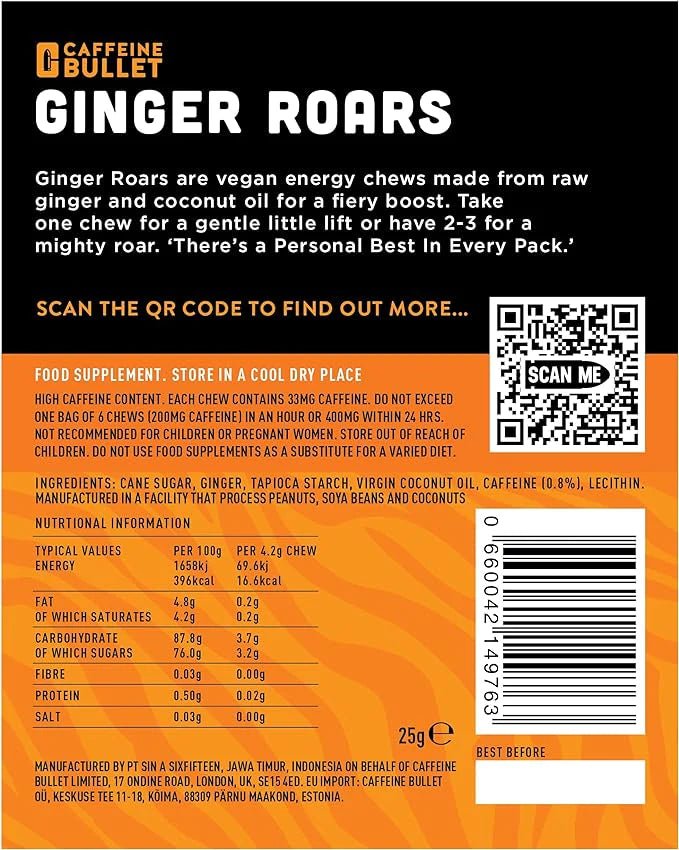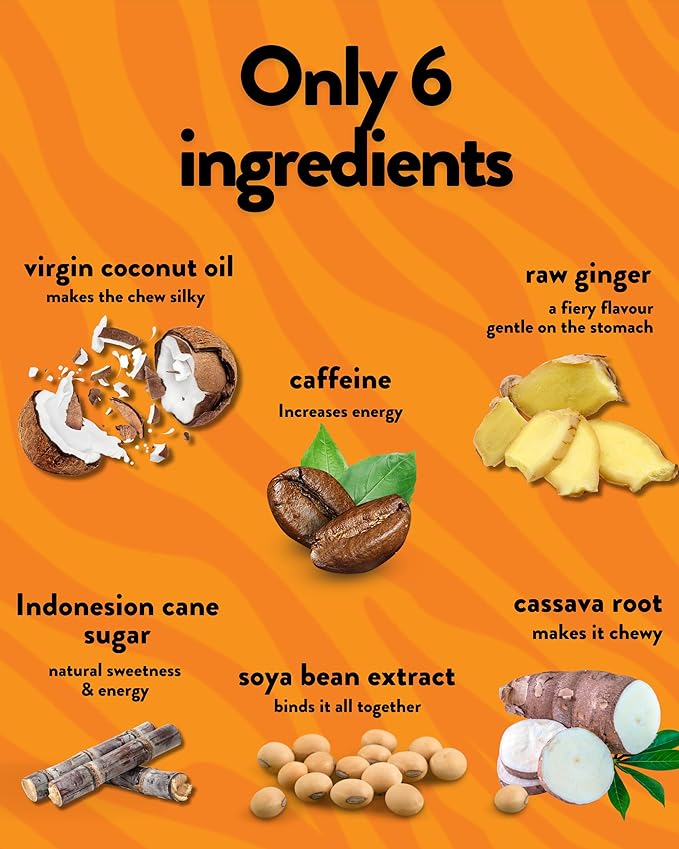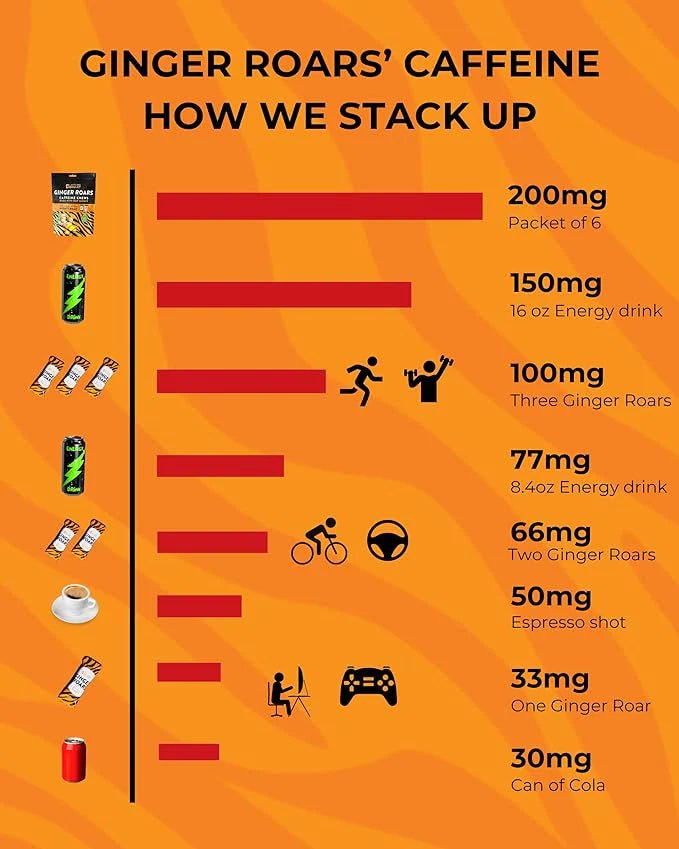 Got Questions? Need Advice?

The team here at TTF are passionate about all our products and it's important to us that you get what's right for you. Chat with us now to make sure the first step on your adventure is the right one.